The Home of Swedish Car Culture
Welcome to the Swedish Boost Mafia store. We started out as an Instagram feed and some wacky designs between friends, including stickers, T-Shirts and hoodies. 
We thought we'd share them with our fellow enthusiasts on here!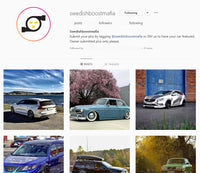 Follow Us On Instagram @swedishboostmafia
We started our Daily Swede Feed on instagram, if you haven't already, consider following us for your fix everyday!
Follow Us
Custom content
Looking for Performance Parts?
Our sister company, ALG Performance specialises in stocking and distributing aftermarket parts for Volvo, Ford and Mazda platforms.